Where it came from?
Monkeypox is named for the animals in which it was discovered. The disease cropped up in 1958 among monkeys kept for research, according to the CDC — more than a decade before a human case was identified in the Democratic Republic of Congo.
How is it transmitted?
The disease can spread through contact with animals, infected people and materials used by infected people, health authorities say. Examples listed by the CDC include contact with bodily fluids, contact with monkeypox sores and infection through "respiratory droplets" in a "close setting" such as a shared household.
What are its symptoms?
Typically last two to four weeks, the CDC says, and begin with flu-like symptoms and swelling of the lymph nodes. Eventually fluid-filled bumps — or "pox" — spread across the skin. Monkeypox can be deadly, but two major strains of the virus pose different risks. About 1 in 10 people infected with a Congo Basin strain have been found to die, according to the World Health Organization, while a West African strain appeared to be fatal for about 1 in 100 people infected.
Has it been detected in the United States?
So far (as of May 20, 2022), the United States has one confirmed case in Massachusetts, and one confirmed and one suspected in New York. Canada has two confirmed cases, with several more suspected cases under investigation. Michael Osterholm, PhD, MPH, director of the University of Minnesota's Center for Infectious Disease Research and Policy (CIDRAP), told CIDRAP News he expects the outbreak to grow further.
Should I worry?
Experts stress that monkeypox is different from the coronavirus that has infected millions. Aris Katzourakis, a professor of evolution and genomics at the University of Oxford said, "we don't have the potential for something spreading through the globe at anything like the kind of rate that we saw with covid," because monkeypox transmits less easily between humans. Still, the latest spate of cases stands out, "the longer it continues, the more chance the virus has to mutate and improve its transmissibility".
______________________________________________________________________________________________
Update (07/31/2022)
Trends of monkeypox cases reported to CDC since May 17, 2022, the start of the response to the current outbreak in the United States. Data include cases with reporting date of 07/25/2022.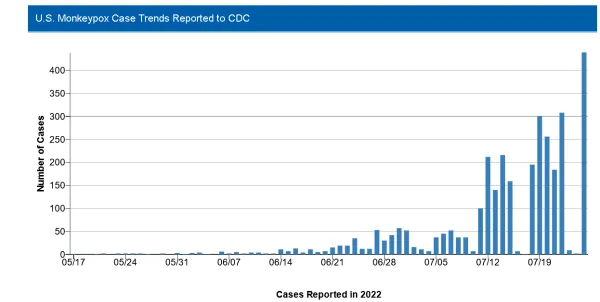 Heatwave Across Northern Hemisphere